Our Key Projects
WASH in Schools – The Hygiene Education & Practices Model Under  'Dettol: Banega Swasth India'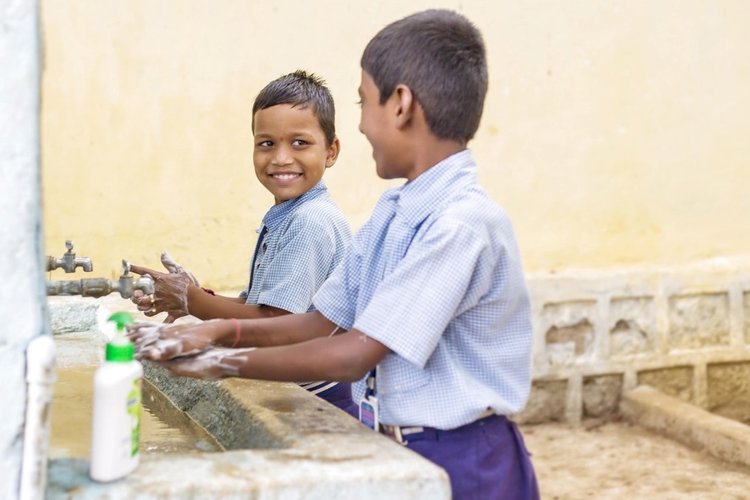 'Dettol: Banega Swachh India,' a flagship project by Reckitt India , is a collaboration between Reckitt, the Government of India and various State Governments. This project aims to leverage knowledge on behavioural trends related to hygiene practices for providing ground-level solutions for sustainable impact.
Among all agencies, CGF has partnered with the maximum number of schools and currently handles two states, owing to which the support from Reckitt is continuing for the second year as well. This year, the programme introduces an e-curriculum, an app-based MIS and activities around government advocacy.
The project attempts to build strong community relations through an immersive approach to hygiene education using modules developed by Reckitt. The teachers, upon completion of hygiene education training, will impart the acquired knowledge to children between the ages of 6-10 years, ensuring maximum impact through extensive outreach.
This flagship project is currently being facilitated by Samhita and CGF across 1,602 schools and will benefit over 1,00,000 children in Andhra Pradesh and Telangana.
Click here to read the full report on how the Dettol School Hygiene Education Programme is developing a culture of hygiene in India's children.
Swachh Maharashtra Grand Challenge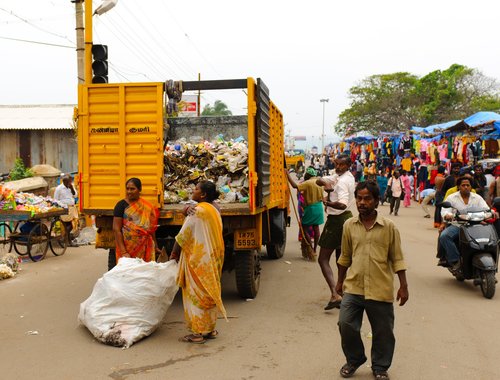 CGF and Samhita in partnership with Founding Fuel, with support of leaders from the government, business and social sector are designing and executing the Swachh Maharashtra Grand Challenge.
The Swachh Maharashtra Grand Challenge identifies, pilots and scales five innovative sanitation programmes in a single district of Maharashtra. The winning innovations will cut across the sanitation value chain in five key thematic areas such as behaviour change, innovative finance, digital technology and analytics, operations and maintenance and waste management. Other themes, which can also be supported by the Grand Challenge, include livelihoods in sanitation, school sanitation and water accessibility.
Samhita GoodCSR
GoodCSR is an online technology solution that empowers companies and foundations to achieve higher operational efficiency and project impact.
It is developed by Samhita Social Ventures in collaboration with Collective Good Foundation, and is supported by the Bill & Melinda Gates Foundation and  Tata Trusts. Samhita GoodCSR  is envisioned as a complete solution for CSR teams. GoodCSR provides an end-to-end solution for seamless implementation of CSR projects.
For Companies & Foundations
Samhita GoodCSR helps funders identify and select implementation partners across India. It provides companies access to impactful CSR projects and credible partners through its CSR Marketplace and SmartRFPs. Companies can also monitor their CSR projects through the Project management module.
For NGOs & Social Enterprises (SEs)
Samhita GoodCSR offers implementation partners a one-stop solution to intelligently manage their CSR related activities. Samhita GoodCSR validates the implementation partner's credibility based on their registration documents, past financial records, organisation's pedigree, affiliation with other reputed funders, recognition and recommendations in the sector.
Assessing the impact of skill training
Godrej Industries Limited
Godrej Industries undertook skill development programmes providing beautician, construction,
animal husbandry and retail skills for communities with a focus on young adults. The beautician programme, Salon-I targets young women in the 18-35 age category, providing them with basic beautician skills and empowering them to become entrepreneurs. The construction skills programme, Nipun, provides upskilling and re-skilling opportunities to amateur and experienced workers on-site. Samarth, the animal husbandry programme, aims to build the capacity of cattle farmers to rear healthier cattle and enhance milk productivity to develop their livelihood opportunities. The retail programmes – Prerna and Vijay, provide small shop owners and channel sales representatives with the requisite skills to enhance sales and their own incomes.This project is estimated to benefit over 35,000 people when completed.
CGF is working with Godrej to conduct a longitudinal impact assessment of the skill development programmes, via two methods – manual calling to capture key quantitative indicators for all beneficiaries and an in-depth qualitative interaction, tracking a select sample of beneficiaries over a two-and-a-half-year period to assess the impact on their lives after participating in the training programme.
Skill India Fellowship Award 2017
Aspiring Minds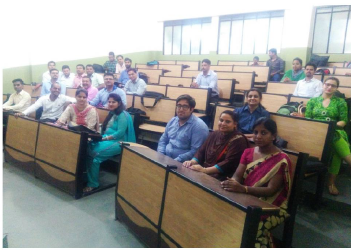 The mission of Aspiring Minds is to develop a merit-driven labour market where everyone has access to talent and opportunity. They engaged Collective Good Foundation to develop their CSR programme and award vocational trainers actively engaged in the Skill India Mission, and to ensure increased aspirations, achievements and pride. The main objectives of this program were:
· To raise the prestige of vocational trainers in India
· To recognise the outstanding merit and ability of vocational trainers
· To motivate vocational trainers and raise their aspirations
· To contribute to the Skilling India programme by strengthening the cadre of trainers who play a crucial role in training the youth
·To set a roadmap for more such awards and recognition for vocational trainers
Sector wise, the maximum participation was seen in Electronic/IT sector covering 24% of the total participants. Healthcare and Construction sector contributed 18% each to the total number of participants. The Logistics sector saw the minimum participation covering only 2% of the total participants.
The final award ceremony saw 30 trainers from eight sectors being awarded for their exemplary skills in their respective field of work.